Regular price
Sale price
$5.50 USD
Unit price
per
Sale
Sold out
Five 32c Aster Stamps
Issued: September 16, 1995
Scott Catalog #2993

5 Mint, unused postage stamps with original gum as issued by the Post Office. These stamps are genuine and valid to use as postage for current mailing. Be sure to use enough total postage to meet the current postal rate for the item you are mailing.
Great for special mailings like weddings, birthdays, valentines, and events. Also good to use for scrapbooking or displaying in a small picture frame. It's a miniature work of art.
About this stamp:
This stamp was originally issued in a set of 5 stamps paying tribute to the beauty of Garden flowers. Asters are members of the daisy family and thrive as wild or as cultivated flowers. Named after the Greek word for "star," legends say Virgo sowed them from stardust. Another legend says they sprang from the tears of the goddess Asterea, who grieved upon seeing a devastated Earth after the great Flood. Also known as "starwort" and "eye of Christ," asters were long believed to have magical powers. In ancient Greece, wreaths of asters adorned the altars of all the gods. Down through the centuries, some people burned aster leaves to keep away evil spirits, while others ground aster roots to cure sickly bees and the bite of mad dogs.
How To Apply

Water Activated Gum: Apply a small amount of water to the back of the stamp and then place on the desired surface.
Shipping & Returns

Economy: No tracking. USPS 1st Class Letter Rate. Shipped in a #10 envelope with Vintage Postage.

Want Tracking? Upgrade to USPS Ground Advantage, Priority Mail, or Express Mail at Checkout.

Need a Return? View our Return Policy.
Share
View full details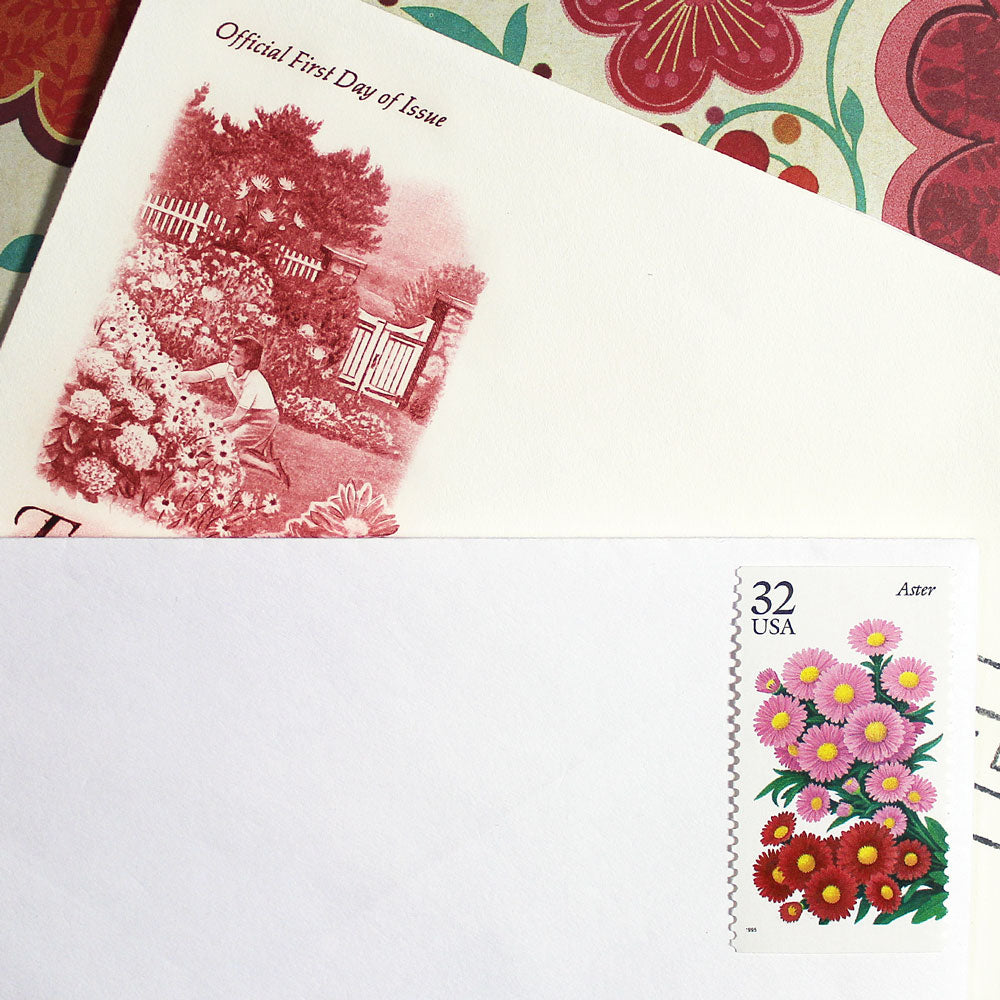 Free Economy Shipping on $40+

Economy Shipping might be slower and without tracking, but your order will be shipped with Vintage Postage for you to collect and enjoy.

Upgrade for Tracking

You can upgrade to USPS 1st Class Package, Priority Mail, or Express Mail to get your order faster with tracking. Prices are discounted rates from the USPS store with no added handling.